30 July-23 August 2015: Lysistrata
Michael is adapting and directing Aristophanes' Lysistrata for Auckland Theatre Company, at Q Theatre.
It will star Amanda Billing, Jennifer Ward-Lealand, Sia Trokenheim, Darien Takle, Hannah Tasker-Poland, Cameron Rhodes, Fasitua Amosa, Andrew Grainger, Paul Glover Peter Hayden, Lucinda Hare and Nomi Cohen, with design by Rachel Walker, choreography by Shona McCullagh, music by John Gibson, and costumes by Troy Garton.

Click here for info and to book.

To convince their men folk to end the Peloponnesian War, Lysistrata encourages the women of Athens and Sparta to abstain from sex with their husbands and partners. This strategy leads to an all-out war between the sexes and some hard bargaining from the boys, but first the women have to overcome some challgenges too, not least the call of their own desires.

Michael and his creative team unleash their talents on another sensationally sexy stage spectacular, breathing fresh life into Aristophanes, timeless text. Provocative, risqué and as relevant as ever.
4 April-19 July 2015: Generation of Z: Apocalypse
Michael directed this immersive live theatre experience in London at 69-89 Mile End Rd, London. Click here for info and tickets.
REVIEWS
LondonTheatre1: "

...This is not just a scare-fest...but is a genuine theatrical performance where Director Michael Hurst moves his team of actors – both professional and really enthusiastic amateurs – along with the audience around like puppets on a string. For me as an audience member it was an amazingly emotional show. A mixture of subliminal fear, genuine horror, pathos and some lovely bits of unexpected comedy had me gripped from the moment we entered"
Horror Cult Films: "

... theatre at its most immersive ... actors who sell the hell out of every scene ... get yourself down to London's east end ... it's worth every penny".
The Upcoming: "

... the actors revel in their characters. Audience participation is not encouraged; it is enforced ... Acting is of an exceptionally high standard"
LondonTheatre: "

... tremendously well-structured and well-executed show ... surprisingly realistic effects ... completely unique ... exploring new ways of how to entertain ... exhilarating and intense theatrical experience"
Digital Spy: "

... it's undoubtedly the best of its kind out there ... The make-up artists have done an incredible job, the zombies are genuinely scary, the acting is excellent and it even has a decent story".
Gay Times: "

... it is not a haunted house scare fest, it is a fully realised play ... Given the mammoth task of not only acting but also engaging and incorporating the audience into the story, the cast were phenomenal"
The Generation of Z is a project pioneering a new form of high-octane, interactive storytelling. Set amongst the chaos of a zombie apocalypse, GenZ throws the audience into their own live video game, where every "survivor" can directly influence the show's narrative and outcome. Will you cower against the walls, or rise up to be the hero?
Forget watching this from your seat – GenZ is multimedia theatre on steroids, where every choice is life or death. What would you do to survive?
LondonTheatre1 did an interview with Michael about creating immersive theatre; read it here.
Late 2015: Ash vs. Evil Dead
Michael directed episodes 6 and 7 of this new tv series in June 2015. It will air on STARZ! in late 2015. Click here for more.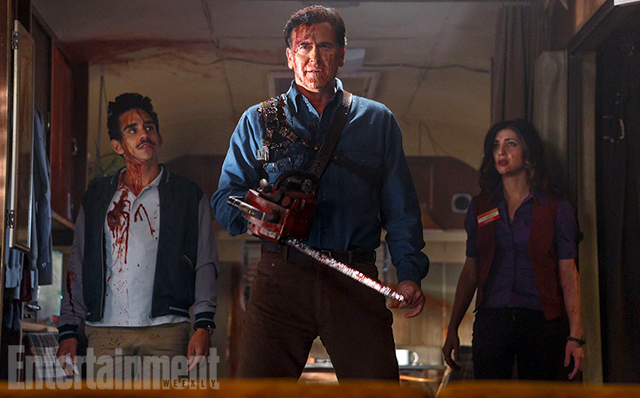 The show is executive produced by Sam Raimi, Rob Tapert, Bruce Campbell, and showrunner Craig DiGregorio, and stars Bruce Campbell, Lucy Lawless, Mimi Rogers, Jill Marie Jones, Ray Santiago, and Dana DeLorenzo. Australian streaming service Stan has announced that it has exclusive rights to the show in Australia, and that it will air on the same day that it is shown on STARZ!; click here for info.
This 10-episode first season is the long-awaited follow-up to the classic horror film franchise The Evil Dead. It is set to premiere on STARZ! in fall 2015. Bruce Campbell is reprising his role as Ash, the stock boy, aging lothario, and chainsaw-handed monster who has spent the last 30 years avoiding responsibility, maturity, and the terrors of the Evil Dead. When a Deadite plague threatens to destroy all of mankind, Ash is finally forced to face his demons – personal and literal. Destiny, it turns out, has no plans to release the unlikely hero from its "Evil" grip.
There will be an Ash vs. Evil Dead panel at San Diego Comic-Con on Friday 10 July at 6 p.m. Click here for info.
August 2015: The Other Side of Love
Michael plays Magic in this feature film, filming in England. See info on Facebook.