2 April 2017, 4:00 p.m.: Actors' Benevolent Fund Afternoon Gala
Michael will be one of the performers at the Actors' Benevolent Fund Gala at the Pop-Up Globe (Ellerslie Racecourse, Auckland). Click here to book.
All profits from the Gala will go directly to the New Zealand Actors' Benevolent Fund, a not-for-profit charity established in 2013 to provide assistance to professional performers, both young and old, who, due to injury, illness, or disability, are unable to work. It provides both financial and practical assistance to those in need. Medical expenses may be directly met, pharmaceutical bills settled, or essential items purchased. In some cases, there may also be provision available for the care of children or family dependants of those performers in need. Jennifer is a board member of the Actors' Benevolent Fund.
The Gala will feature many New Zealand performers including Jennifer Ward-Lealand, Dave Dobbyn, Shona Laing, Morgana O'Reilly, Lucy Lawless, Shortland Street the Musical, Jubilation Choir, Dynamotion, Stephen Lovatt, James Roque, Jesse Griffin, Tandi Wright, Paul McLaney, Fiona Samuel, Black Friars, and The Black Quartet; Michele A'Court will MC.
Click here for more on the Gala.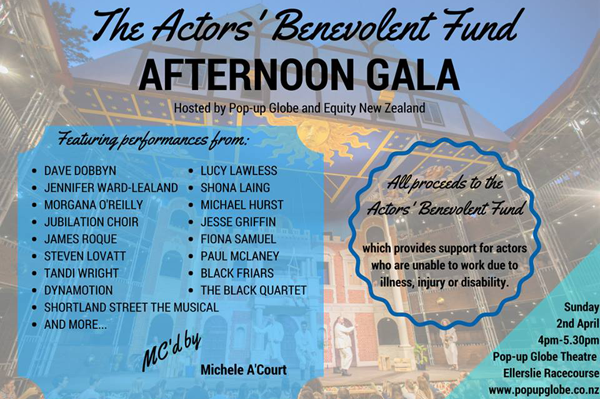 4 April 2017, 7:30 p.m.: "Classics on Stage and Screen: A conversation with actor, director and playwright Michael Hurst"
Michael will be speaking on his work with classical works and plays. At Massey University, Albany, room 100 Sir Neil Waters Lecture Theatre Building (SNW100); click here for info.
Read Michael's interview about his experience with classical works here.
27 February-early April 2017: 800 Words
Michael is directing episodes 3.3 and 3.4.
5 April 2017, 8:30 p.m.: 800 Words ep 2.13 (New Zealand, TVNZ 1)
12 April 2017, 8:30 p.m.: 800 Words ep 2.14 (New Zealand, TVNZ 1)
Michael directed. He also directed episodes 2.3, 2.4, 2.9 and 2.10. Click here to watch earlier episodes.
800 Words is produced by South Pacific Pictures/Seven Productions. It stars Erik Thomson, Melina Vidler, and Benson Jack Anthony. Click here for info.
2-17 May 2017: Amadeus
Michael will play Salieri in Amadeus for Auckland Theatre Company at ASB Waterfront Theatre, directed by Oliver Driver with musical direction by Leon Radojkovic. Ross McCormack will play Mozart, alongside Morgana O'Reilly, Byron Coll, Laughton Kora and Kura Forrester, with opera singer Madison Nonoa and an 11-piece orchestra. Click here to book.

From the press release: "In Vienna, music is the currency of power and Court Composer Antonio Salieri is the toast of the town. That is, until the arrival of Wolfgang Amadeus Mozart. Confronted with true genius, Salieri is consumed with obsessive jealousy, declaring war on God for choosing to speak through this upstart and not him. His mediocrity becomes murderous as he sets out to destroy his potty-mouthed young rival and extinguish the spark of his divine talent.

"Premiering at the National Theatre in 1979, the production received seven Tony Awards, including Best Play, in 1981. It was made into an Academy Award-winning film and has become one of the most famous and acclaimed plays of the twentieth century.

"With sweeping operatic theatricality, Amadeus juxtaposes the petty world of human excess and envy with the transcendent achievements of human artistry and passion".