1 September 2015, 8:35 p.m.: Step Dave season 2 premiere
Step Dave returns to TV2; Michael directed episodes 2.12 and 2.13. Click here for info, or see Step Dave on Facebook.
2 September 2015, 8:00 p.m.: Poetry Recitation
Michael will do a poetry recitation in the Tiny Theatre at Garnet Station. The evening will feature the Treblemakers a cappella singing group. Click here for info.
10, 11, 12 September 2015, 8:00 p.m.: No Holds Bard
Michael will perform his solo show in the Tiny Theatre at Garnet Station, 85 Garnet Road, Westmere. Click here for info and to book.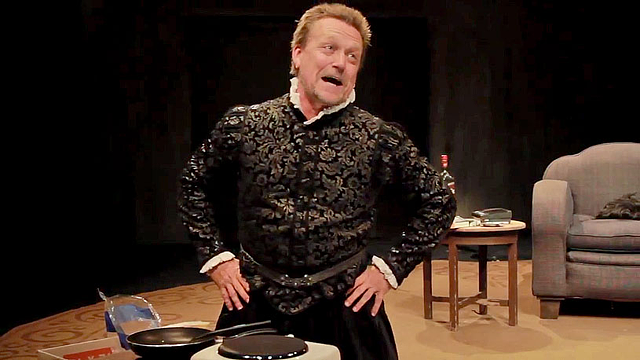 31 October 2015: Ash vs. Evil Dead premiere
Michael directed episodes 6 and 7 of this new tv series in June 2015. It will air on STARZ! beginning on Halloween 2015. Click here for more.
The trailer below was premiered at San Diego Comic-Con on 10 July 2015.
The show is executive produced by Sam Raimi, Rob Tapert, Bruce Campbell, and showrunner Craig DiGregorio, and stars Bruce Campbell, Lucy Lawless, Mimi Rogers, Jill Marie Jones, Ray Santiago, and Dana DeLorenzo. Australian streaming service Stan has announced that it has exclusive rights to the show in Australia, and that it will air on the same day that it is shown on STARZ!; click here for info.
This 10-episode first season is the long-awaited follow-up to the classic horror film franchise The Evil Dead. It is set to premiere on STARZ! in fall 2015. Bruce Campbell is reprising his role as Ash, the stock boy, aging lothario, and chainsaw-handed monster who has spent the last 30 years avoiding responsibility, maturity, and the terrors of the Evil Dead. When a Deadite plague threatens to destroy all of mankind, Ash is finally forced to face his demons – personal and literal. Destiny, it turns out, has no plans to release the unlikely hero from its "Evil" grip.
October-December 2015: Westside
Michael will direct 4 episodes for South Pacific Pictures. Click here for info.