Beginning 20 November 2017: Westside
Michael is directing episodes 4.7 and 4.8.


22 September-23 December 2017: Director of Pleasuredome
Forget everything you knew about musicals, this is an immersive experience set within a fully realised Manhattan streetscape just off Rosebank Road, ten minutes from Auckland's CBD. Here your journey begins before being transported back in time to the heart-stopping, booty-shaking, mythical Pleasuredome nightclub. This is the night you never dreamt possible.

Lucy Lawless is Sappho, the show's sexy, hedonistic diva whose lavish performances have made Pleasuredome synonymous with glamour and excess. Also starring Vince Harder, Olivia Tennet. Quentin Warren, Stephen Lovatt, and a 20-strong cast of local and international performers all supported by a state of the art light and projection extravaganza.
This is a story of desire, addiction, greed, and the power of love, set on the dance-floor to some of the biggest tunes of the era.

Directed by Michael Hurst (Chicago) and produced by Rob Tapert (Spartacus), Pleasuredome will be the most electrifying theatre experience ever staged in New Zealand.
Also featuring James Luck, Hannah Tasker-Poland, Byron Coll, Jadyn Burt, Shanelle Lenehan, Olivia Tennet, Heidi Chen, Jane Strickland, Rebekkah Schoonbeek-Berridge, Blaise Clotworthy, and Leighton Rangi, with musical direction by Joe LoDuca and Jason Smith, production design by Nick Bassett, av design by Jon Baxter, and lighting design by David Eversfield, from an original script by Mark Beesley. Rob Tapert is executive producer and Charlie McDermott is producer.
Reviews:
Newshub: "Pleasuredome is the best show of 2017 ... it's everything you hoped it would be ... director Michael Hurst and producer Rob Tapert should hold their heads high, because they've delivered something I don't think we've ever experienced in New Zealand".
NZ Herald: "It's fun, entertaining ... Pleasuredome delivers ... The dancers are engaging and superb ... Go early, dress 80s and party on".
Theatreview: "Pleasuredome is a courageous extravaganza of a show that is hugely enjoyable. It's a treat to see such risk taking putting on a show of this scale. So, dig out your leg warmers and arrive early for some trashy glam NYC 80s street life. You'll have a ball".
Keeping Up with New Zealand: "cheeky and sexy choreography ... Ashleigh Taylor excels as she blows the roof off with some of her high notes. Lawless delivers a sassy and emotionally charged performance ... I had an absolute ball at Pleasuredome".
GayExpress: "100% energy, great music and surprisingly good singing gives it a real foot tapping, fun quotient that the risqué performances and outfits only enhance".
Click here for more info and to book.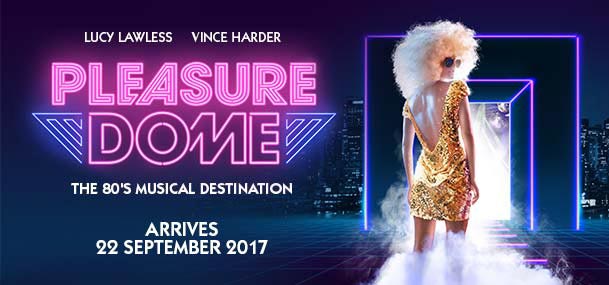 7-21 April 2018: An Iliad
Solo actor, at Fortune Theatre (Dunedin); click here to book.
The guy at the bar has quite a story to tell. Homer's epic masterpiece, The Iliad, is condensed into an intimate, incisive, urgent evening of theatre. A sole performer is joined on stage by a musician to tell the tale of the great Trojan War and Achilles' victory over brave Hector. This sweeping and powerful story collides with our world and delivers startlingly modern results. Has anything really changed?
Musical virtuosity combines with exceptional storytelling to create a theatrical experience like no other.